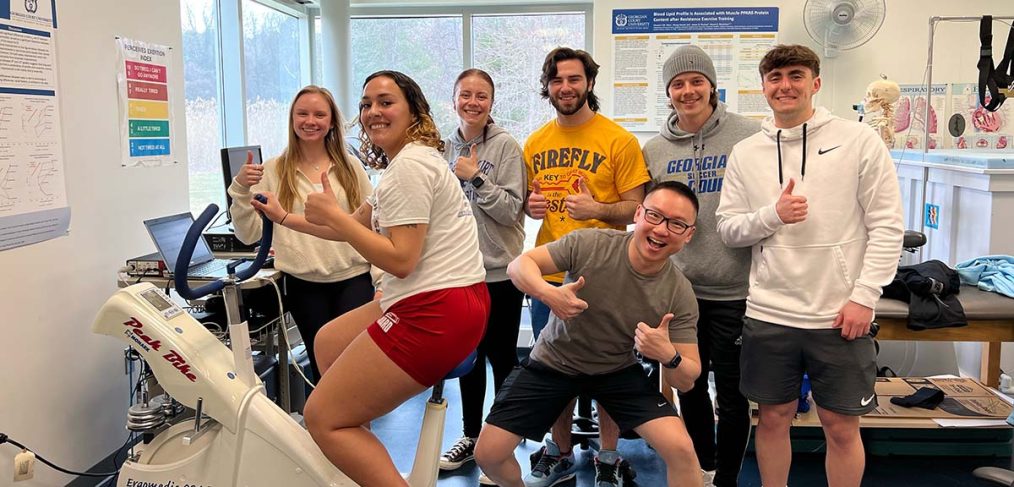 New Jersey Space Grant Consortium Awards Research Funding to Five Students at Georgian Court University
The sky is not the limit! Five GCU students were awarded NASA NJ Space Grants for undergraduate research for the 2022-2023 academic school year. Each student received a $2,000 stipend from NASA for space-related research projects, guided by a faculty member in their respective fields which span across the sciences, including the social sciences. Facilitated by the grant, these research projects are conducted on-site at Georgian Court University.
Casey Korman, a junior from Sayreville, NJ majoring in Exercise Science on the pre-occupational therapy track, has worked with a team to study The Effects of Blood Flow Restriction on Peak Power and Electromyography. She has conducted her research alongside four other students – Mathias Madersbacher, Joseph Liberatore, Joseph Sauchelli, and Gabriele Balkius – all under the guidance of Vincent Chen, Ph.D., Assistant Professor of Exercise Science. Casey served as the student leader of the team.
Read the full article on Georgian.edu here.
Author Credit: PSC (Princeton Strategic Communications)
Image Credit: Georgian Court University