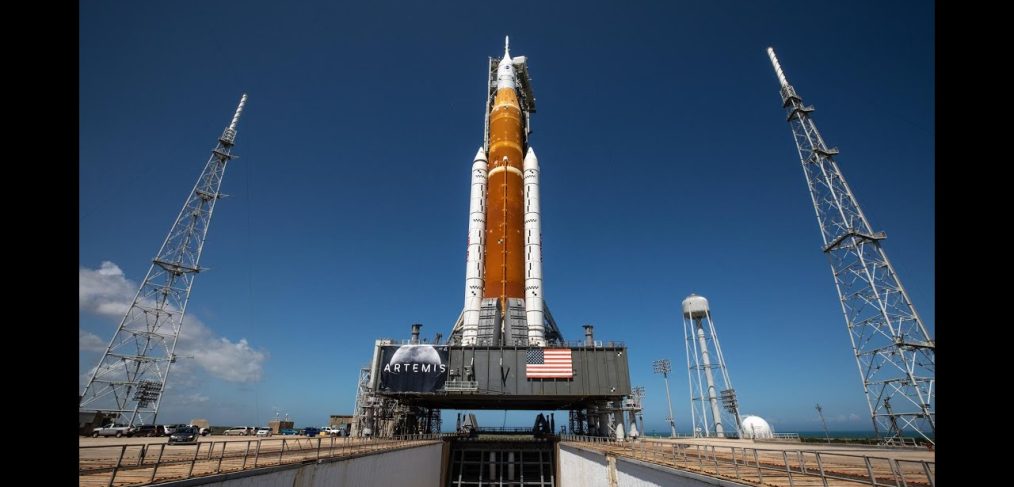 Artemis Updates
Artemis I Managers Wave Off Sept. 27 Launch, Preparing for Rollback
NASA is foregoing a launch opportunity Tuesday, Sept. 27, and preparing for rollback, while continuing to watch the weather forecast associated with Tropical Storm Ian. During a meeting Saturday morning, teams decided to stand down on preparing for the Tuesday launch date to allow them to configure systems for rolling back the Space Launch System rocket and Orion spacecraft to the Vehicle Assembly Building. Engineers deferred a final decision about the roll to Sunday, Sept. 25, to allow for additional data gathering and analysis. If Artemis I managers elect to roll back, it would begin late Sunday night or early Monday morning.
Author Credit: Rachel Kraft
___________________________________
Artemis 1 launch plans slip again.
PARIS — Days after NASA proposed to make its next attempt to launch the Artemis 1 mission on Sept. 23, the agency changed course and pushed back the launch.
At a Sept. 8 briefing, NASA said it was tentatively planning to fly the Space Launch System and Orion spacecraft as soon as Sept. 23, with Sept. 27 as a backup launch date. That scheduled depended on completing and testing repairs to seals in liquid hydrogen lines that attach to the rocket's core stage, as well as getting approval from the Eastern Range to extend the certification of the flight termination system (FTS) on SLS.
Author Credit: Jeff Foust
---
UPDATE on Postponed Launch:
"If all goes according to plan, Artemis 1 will launch from Pad 39B at NASA's Kennedy Space Center (KSC) in Florida during a two-hour window that opens at 2:17 p.m. EDT (1817 GMT). You can watch it here at Space.com when the time comes, courtesy of NASA."
Source: Space.com
(CNN) For the first time in 50 years, a spacecraft is preparing to launch on a journey to the moon.
The uncrewed Artemis I mission, including the Space Launch System Rocket and Orion spacecraft, is targeting liftoff on August 29 between 8:33 a.m. ET and 10:33 a.m. ET from NASA's Kennedy Space Center in Florida.
Although there is no human crew aboard the mission, it's the first step of the Artemis program, which aims to return humans to the moon and eventually land them on Mars.
Image Credit: NASA/YouTube
Author Credit: Ashley Strickland