National Space Grant Distinguished Service Award
---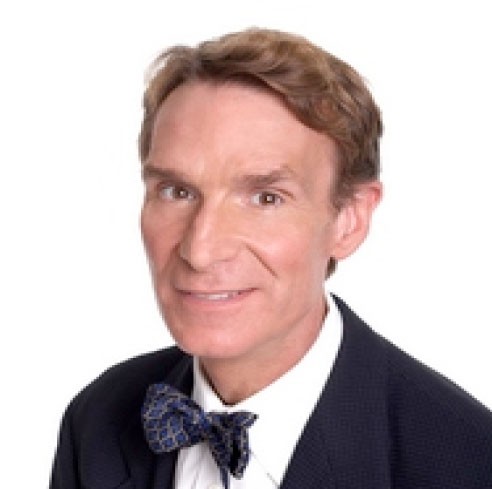 Bill Nye | 2016
The NASA Space Grant community is pleased to announce that Dr. Bill Nye has been selected as the recipient of the 2016 National Space Grant Distinguished Service Award. Dr Nye accepted the award in person on the evening of Friday, March 4, 2015, at the Westin Crystal City Hotel in Arlington, VA, where a reception and dinner was held in his honor.
About Bill Nye "The Science Guy"
American science educator William Sanford Nye, better known as Bill Nye "The Science Guy," was born in Washington, D.C., on November 27, 1955, to Jacqueline and Edwin Darby Nye. Brilliant in math and science, Nye's mother was recruited to become a codebreaker during World War II. His father was held in a Japanese prisoner of war camp, where he had no electricity, for four years: The experience made Edwin Nye a sundial enthusiast, and later, his son would become one himself.
After attending the private Sidwell Friends School, Nye enrolled at Cornell University, where he studied mechanical engineering. Upon earning his Bachelor of Science degree, Nye went on to begin his career at The Boeing Company in Seattle, where he would live for many years. Nye developed a hydraulic pressure resonance suppressor that is still used in the Boeing 747.
Entertainment Career
Nye got his start in comedy after winning a Steve Martin look-alike contest, and went on to work as an engineer by day and a stand-up comic by night. He eventually quit his day job and became a comedy writer and performer on the show Almost Live. It was there that he earned the nickname "The Science Guy."
Soon after, Seattle's PBS KCTS-TV produced the show Bill Nye the Science Guy, an educational television program that aired from September 10, 1993, to June 20, 1998. Nye hosted the show, which aimed to teach science to a preteen audience: Each of the show's 100 episodes focused on a specific topic. The show is often used in schools as an educational tool. Over its five-year run, the show won 19 Emmy Awards; Nye personally received seven Emmys, for writing, performing, and producing.
After the show ended, Nye went on to work on other television shows, including The Eyes of Nye, a science show aimed at an older audience, and the Planet Green Network's Stuff Happens program. He also hosted the 100 Greatest Discoveries show, and appears in videos for several attractions at Walt Disney World and Epcot, including one with Ellen DeGeneres.
Additionally, Nye has played a science teacher in a Disney movie and on the television crime drama Numb3rs. He has been a guest in segments of several other shows, including The Weather Channel and Who Wants to Be a Millionaire. Nye also appeared on Larry King Live several times to talk about global warming—a favorite subject of his—and space exploration. In 2013, Nye took on a different type of television role. He joined the cast of celebrity contestants on the popular competition Dancing with the Stars.
In addition to his acting and guest appearances, Nye has written several children's books about science. In 2015 he published Unstoppable: Harnessing Science to Change the World.
Science and Space
When Nye isn't acting, making TV and film appearances or writing, he is working as a scientist. In the early 2000s, he helped develop sundials that were used in the Mars Exploration Rover missions. From 2005 to 2010, he served as vice president and then as second executive director of The Planetary Society, one of the largest space-interest groups in the world.
Nye became the face of a "Bill Nye's Climate Lab," a permanent exhibition at the Chabot Space & Science Center in Oakland, California. He is also a fellow of the Committee for Skeptical Inquiry, a nonprofit scientific and educational organization that aims to promote scientific inquiry and critical investigation: Nye has said that he is concerned about scientific illiteracy and wants to help teach the use of reason in examining controversial and extraordinary claims.
In 2012, Nye made headlines after speaking out against the denial of evolution. In a YouTube clip posted online on August 23, 2012, Nye said the denial of evolution in the United States is generally unique to rest of the world's advanced nations. "People still move to the United States, and that's largely became of the intellectual capital we have, the general understanding of science," Nye said in the clip. "When you have a portion of the population that doesn't believe in that, it holds everybody back."
For several years, Nye served as Frank H. T. Rhodes Visiting Professor at Cornell. He holds honorary doctorate degrees from Rensselaer Polytechnic Institute, Goucher College and Johns Hopkins.