National Space Grant Distinguished Service Award
---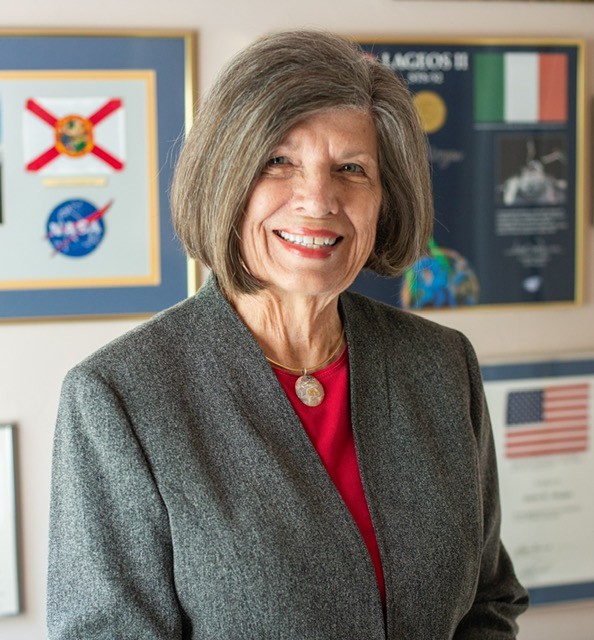 JoAnn Morgan | 2021
The NASA Space Grant community is pleased to announce that JoAnn Morgan has been selected as the recipient of the 2021 National Space Grant Distinguished Service Award.
Biography
JoAnn Morgan's passion for knowledge along with her special interests in science, mathematics, and engineering fueled a career with NASA from its inception. She became a trail blazing female engineer – the first to work in a technical capacity on the Apollo launch teams at Cape Canaveral. Morgan's NASA position as Instrumentation Controller for the historic Apollo 11 mission opened the door for women on launch teams and paved the way for her career to bloom with many firsts in management and technical leadership positions at Kennedy Space Center. Her leadership enabled major organizational, technological, and cultural changes. Morgan was the first woman division chief, director, senior executive and associate director at KSC, first to win a Sloan Fellowship to Stanford, first to win Exceptional Service and Outstanding Leadership medals, and was inducted into Florida's Hall of Fame. She won many other honors and national recognition.
Morgan's commitment to mentoring expanded to university partnerships when she accepted opportunities to serve on several advisory and director's boards, and the governor appointed her to be a university trustee in Florida. These experiences, data she reviewed, and interaction with students and faculty inspired her to create an endowment program for women engineering students at several universities. Morgan's advocacy for STEM, for mentoring, focus on endowments, and scholarships has led to improvements in student participation and interest. Her lifelong passion for new knowledge and her personal commitment and perseverance since the late 1950's make her an inspiring role model for today.
About the National Space Grant Distinguished Service Award 
The National Space Grant Distinguished Service Award was established to recognize individuals whose life and career have had a long lasting impact in a science, engineering or education field that is related to aeronautic, aviation, or space endeavors. The inaugural award was presented in 2003 to former Senator and Secretary of the Treasury Lloyd M. Bentsen for his visionary work in creating the National Space Grant College and Fellowship Act. Past Recipients of the National Space Grant Distinguished Service Award Lloyd Bentsen, James Van Allen, Peter Diamandis, John Glenn, John Young, Leon Lederman, Vera Rubin, Neil deGrasse Tyson, Sally Ride, Julius Dasch, Ellen Ochoa, Bill Nye, and Katherine Johnson.